Welcome to Stemiverse Podcast episode 46.
In this episode, Peter and Marcus talk with Jesse King.
Jesse is a Waanyi descendant who has a passion for education and the opportunities it provides for everyone involved.
He has close ties to the Mt Isa and Central Queensland regions through his father and mother's family. Jesse attended school in Townsville and completed his teacher training at Charles Darwin University.
He is keenly interested in the opportunities 21st-century pedagogy offers for learners of all abilities and backgrounds.
Jesse has experience in classroom teaching, school leadership, learning management system implementation (School and Sector), school strategic planning and has successfully gained funding and delivered a variety of programs at the school level.
This is Stemiverse Podcast episode 46.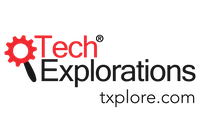 This podcast is brought to you by Tech Explorations, a leading provider of educational resources for Makers, STEM students, and teachers. Go to txplore.com to see a complete list of our books and courses covering the Arduino, Raspberry Pi and electronics.
Show Notes
[00:00] Introduction - Introducing Jesse King
[02:09] Greetings
[03:04] About Townsville, Queensland, Australia
[05:47] Jesse talks about his background
[08:25] Why did Jesse become an Educator?
[11:33] Jesse describes his first teaching assignment
[14:33] Did Jesse have more or fewer resources than a metropolitan teacher?
[18:03] Network Infrastructure in smaller cities of Australia
[19:07] Jesse's current work at Townsville, Australian Tropical Sciences, and Innovation Precinct - CSIRO - The Indigenous STEM Education Project
[19:42] The Inquiry for Indigenous Science Students
[21:06] Bringing hands-on Indigenous science into the classroom
[22:19] Professional Development for teachers
[23:45] Prior considerations for teachers before embarking on a program like the Inquiry for Indigenous Science Students: Cultural awareness and diversity of thought
[26:58] Codifying the knowledge that has been passed through Aboriginal tradition
[30:19] Focusing on the non-secret non-sacred knowledge
[31:30] What we can learn from the Aboriginal teaching practices
[32:06] Gradual release of responsibility
[34:20] Scientific inquiry that has been going on in Australia for thousands of years
[36:52] Science Pathways for Indigenous Communities
[39:14] The elements and outcomes of the Indigenous STEM Education Project:
[41:54] Indigenous STEM Awards: Rewards and Projects
[44:15]
2017 Indigenous STEM Awards winners and finalists
: Dr. Misty Jenkins, Dean Foley, Shailyn Isaac, Kayla Pattel and more
[46:11] The Bachelor of Science (Extended) degree provides a pathway for Indigenous students
[48:17] How does the Bachelor of Science (Extended) program maintain or increase retention of students?
[50:22] What are the lessons that people from other communities can learn from Jesse's experiences in Australian diversity and the program that he is a part of, at CSIRO?
[52:39] Rapid Fire Questions
[52:44] What resources provided by the government could help with achieving the most significant amount of change in teaching students?
[54:07] Most influential people to the way in which Jesse teaches
[55:23] Advice to educators that teach with material that Jesse and CSIRO are making
[56:33] Algebra or Geometry?
[58:07] Parting thoughts, dos and don'ts
[59:03] Jesse's preference: Twitter, Facebook or Email?
[59:52] Jesse's Contact Information:
Email
,
LinkedIn
,
Website