Welcome to Stemiverse Podcast episode 38.
In this episode, Dr Peter Dalmaris and Marcus Schappi talk with Seven Vinton.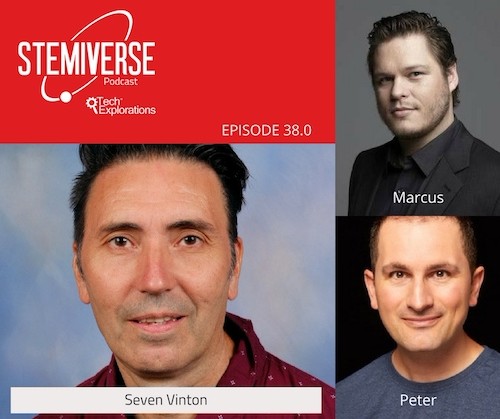 Seven is Co-inventor of the ARD2-INNOV8 shield for Arduino. He has dedicated the past 6 years to providing support for students and teachers with Digital technologies, and creating solutions which make coding easier for students. He presents annually at the DATTA Vic and DLTV conferences, co-authored the Digital Technologies text book for Nelson Cengage, and is currently designing work units for the new Geelong Technical School.
In this episode, Seven, who is a victim of mechanical typewriters from the previous century, talks STEM curricula and their attributes, increasing literacy performance, using data analysis tools to help with planning in the school environment, best-use cases for end-of-year reports, educating parents, writing a STEM book for a large publisher, being a Youtuber, and much more!
This is Stemiverse Podcast episode 38.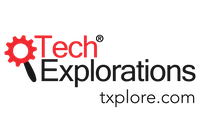 Stemiverse podcast is brought to you by Tech Explorations, a leading provider of educational resources for Makers, STEM students, and teachers. Go to txplore.com to see a complete list of our books and courses covering the Arduino, Raspberry Pi, and electronics.
Show Notes
[00:00] Introduction - Introducing Seven Vinton
[04:00] About the name Seven
[05:37] Seven's teaching training in Arts and Technology
[07:21] About Geelong, where Seven is based, and Oberon High School where he teaches
[08:51] Australian students go backwards in maths, reading and science: report - What differentiates the students in Oberon High School
[09:58] Professional Development at Oberon High School - Professor John Hattie's Research
[10:27] Implementing strategies - Being a curriculum leader
[11:09] What are the obstacles or problems across the educational sector that cause the drop in Australian students' performance in STEM?
[12:58] The NAPLAN results tell one side of the story
[13:35] Data Analysis Tool: Accelerus

[15:37] How popular is the Accelerus software package?
[16:13] Are teacher observations fed into the Accelerus?
[16:37] Tips & Tricks about Accelerus
[18:05] Parent Portals and Ongoing Reporting

[19:08] Recommendations for teachers who would like to do ongoing reporting

[21:37] Identifying student performance flatlining through the data

[23:34] Having the parents on board and taking into consideration their experience in school

[24:46] Australian of the Year: Eddie Woo

[25:15] Making Educational YouTube videos

[28:44] What is an Arduino?

[29:53] Enumerating some if the things one can learn around the Arduino

[32:52] The Arduino and similar technologies as a way to expose students to problems they need to find ways to solve

[35:51] Seven Vinton and Mark Trezise's invention, the ARD2-INNOV8 Shield, that can help teachers who find some aspects of Arduino daunting

[36:43] Philo Farnsworth, the inventor of TV

[38:10] Thinkershield - Museum of Applied Arts and Sciences

[38:37] Wiltronics

[39:07] The process of making and designing the invention, narrowing down the requirements

[43:09] What should be the purpose of a curriculum?

[45:51] Marzano Research

[46:08] Carol S. Dweck

[48:00] From Scratch and Snap4Arduino to Arduino text based code

[48:46] Books by David Grover and Seven Vinton published by Nelson Cengage:
[52:38] Additional resources at the Nelson Cengage website

[53:22] What was the process of writing the books like for Seven?

[56:23] Reading Recommendations: Maker Education Revolution, by Peter Dalmaris, Programming the Raspberry Pi: Getting Started with Python, by Simon Monk, Peter's courses on Udemy, material by Professor Hattie, Ken Robinson, Carol Dweck, James Anderson, Make Magazine

[58:29] It's easy to become overwhelmed with so much out there

[01:00:41] Why the Maker Revolution died off in the 90s

[01:03:00] Rapid Fire Questions

[01:03:06] Seven's Programming Language of choice: C++

[01:04:32] Books Seven has given as a gift that are related to teaching

[01:05:30] Seven's Contact Information: Email, ICT Tools for Teachers Facebook Page, ICT Tools for Teachers YouTube channel