Welcome to Stemiverse Podcast episode 37.
In this episode, Dr Peter Dalmaris talks with Dr Marc Noakes.

Marc earned his PhD in Science on scholarship with the CSIRO, which provided an apprenticeship in research, management, professional communication, and a solid background in the understanding of science. He then undertook a four year postdoctoral fellowship at Washington State University which enabled him to develop professional communication skills in addition to leadership, management and ICT skills.
Upon returning to Australia, Marc undertook postgraduate studies in education and gained employment as a high school science teacher. His high school teaching career enabled him to develop quality teaching skills, develop a sound understanding of the 7-10 science curriculum, HSC Biology, HSC Earth and Environmental Science and HSC Senior Science syllabi, and contribute to science curriculum leadership.
As a STEM Specialist Educator and NESA-endorsed professional development provider, Marc works with schools and STEM-related organisations to develop and deliver high quality teaching and learning programs and resources through curriculum leadership, professional development, mentoring and classroom support.
In our conversation, Marc talks about the disengagement from Science as students grow into adulthood, re-engagement, helping teachers gain confidence in their ability to teach science, misunderstandings around STEM, hands-on learning and collaboration, why being a polymath helps in being a better teacher, and much more.
This is Stemiverse Podcast episode 37.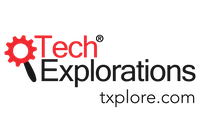 Stemiverse podcast is brought to you by Tech Explorations, a leading provider of educational resources for Makers, STEM students, and teachers. Go to txplore.com to see a complete list of our books and courses covering the Arduino, Raspberry Pi, and electronics.
Show Notes
[00:00] Introduction - Introducing Dr Marc Noakes
[03:23] Marc is a teacher as well as a teachers' teacher
[05:00] The enthusiasm of primary school students and how to maintain it
[07:03] Marc talks about his background as a molecular geneticist, what drove him to teaching and how he became an instructor for teachers
[11:15] Why did Marc's supervisor told him that he was wasting his time in a lab?
[12:31] Is being a Polymath unusual?
[13:28] "A holistic approach gives students a much better sense of linkage with the real world"
[14:26] Does being exposed to different types of knowledge make you a better teacher in general and more specifically a better STEM teacher?
[16:36] Team Building: Knowledge of multiple fields helps communication with a lot of different people
[17:31] Students as teachers/instructors/mentors
[17:49] Project-based Learning: The new HSC Syllabus for High School
[18:32] Interaction between Primary Schools and other institutions - Moving towards being more community integrated
[21:07] Are we re-examining Education from Kindergarten to University?
[22:35] School exists as the way to University - The issue of assessment
[24:25] Portfolio based entry to Universities and the problem of scaling
[27:39] What skills will a today's 10 year old need 20 years from now? Communication skills
[31:26] Office software vs Cloud tools: Are IT skills still necessary to be taught?
[33:35] Are the teachers ready to provide Computer Science and Digital Technology instruction? Courses for teachers at the University of Adelaide
[34:32] Online communication and the limited vocabulary of today's students
[36:22] Marc's work as a trainer of teachers
[40:42] Building confidence as a teacher - How a hands-on and collaborative approach helps break down the barrier
[44:09] Going from being a teacher afraid of STEM subjects to engaging the students in a classroom
[46:36] Most typical obstacles in helping teachers overcome their fears
[48:16] Advice for teachers: Don't hesitate to invite others to come to your class and deliver a unit of work
[49:19] Re-engaging students in science through play and hands-on experience
[52:36] The Art of Teaching

[55:13] Tinker with your teaching approach
[56:49] Mentoring or Teaching?
[57:24] The new Art and Science of Teaching, by Robert J. Marzano

[57:28] The Art of Teaching Science, by Grady Venville and Vaille Dawson

[57:33] Book Recommendations by Marc: Teaching Primary Science Constructively, by Keith Skamp, Resources from the National Science Teachers Association

[58:41] Marc's choice of Productivity Tools: Microsoft Excel, Gantt charts, Google Sheets

[01:01:10] Marc's sources of information regarding developments in Education: Facebook groups, Literature Research

[01:02:35] Marc's publications and writings: Refraction Media Blog

[01:04:20] Marc's Programming Language of choice: Python

[01:07:14] Parting Thoughts and advice for teachers just starting out

[01:08:30] Marc's Contact Information: Email, Website, Twitter, LinkedIn

[01:09:01] Primary STEM Expo 2018