Welcome to Stemiverse Podcast episode 9.
In this episode of Stemiverse, Dr Peter Dalmaris and Marcus talk with Ben Newsome.
Ben Newsome is the founder of Fizzics Education, a company that specialises in delivering interactive science workshops and shows. Through Fizzics Education, Ben reaches around 300,000 children each year, in person or via video conference, in Austalia or around the world.
Ben is a qualified Science Teacher and a former Environmental Consultant, a Children's Summer Camp director, and a CSIRO Education Team member.
Ben is the recipient of the 2013 Northern Districts Education Centre (Sydney) Winston Churchill Fellowship, is on the leadership team for the International Society for Technology in Education Interactive Video Conferencing group, is an Ambassador for the Association of Science Education Technicians NSW, is part of the education advisory committee for the GWS Giants AFL team and a co-founder of two non-profit museum collaborative networks; Virtual Excursions Australia & the Pinnacle Education Collaborative.
Wow, what a resume!!!
This is Stemiverse episode 9.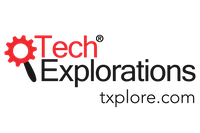 Stemiverse podcast is brought to you by Tech Explorations, a leading provider of educational resources for Makers, STEM students, and teachers. Go to txplore.com to see a complete list of our books and courses covering the Arduino, Raspberry Pi, and electronics.
Episode notes
[00:00] Introduction - Introducing Ben Newsome
[01:53] Ben talks about his background as a science teacher and the founding of his company Fizzics Education
[07:13] How Ben reached out to schools
[10:19] Does the quirkiness of Ben's company name reflect on the way he delivers his science lessons?
[12:32] Authenticity in science
[13:23] Ben's book: 'Be amazing: How to Teach Science the Way Primary Kids Love'
[18:30] Chapter 1: Understanding the Students
[20:58] Chapter 2: Priming the Classroom
[23:04] Preparing and dealing with children's various needs and levels of tolerance
[24:42] Chapter 3: Unleashing Teaching Tactics
[27:09] The importance of establishing a Makerspace and joining the Maker Movement
[29:07] How would Ben go about creating a Makerspace
[32:11] Makers Empire (www.makersempire.com/)
[33:48] Ben's advice is to get the things you can afford and will consistently use ("Don't just get the thing cause it's shiny")
[36:40] Chapter 4: Leveraging Technology ("Teaching Robotics without Robots")
[39:59] Chapter 5: Exploring Social Media (in safe environments for children)
[44:24] Examples of Apps: Flat Stanley, Trello, Slack
[47:22] Chapter 6: Engaging the Community
[50:39] Suggestions for schools to begin engaging with the community
[54:57] Rapid Fire Questions
[55:07] Who has been the most influential in shaping the way that you teach: Elon Musk ("Rockets are cool. There's no getting around that"), Robert A. Heinlein ("Everything is theoretically impossible, until it is done"), Carl Sagan ("Valid criticism does you a favor")
[56:37] What App can you not live without? Trello, Slack... coffee and a fantastic team!
[57:56] How do you hire Educators
[01:01:19] Contact Information: Website: www.fizzicseducation.com.au/, Twitter: @BenNewsome_ or @FizzicsEd, Facebook: www.facebook.com/fizzicseducation/