Welcome to Stemiverse Podcast episode 22.
In this episode, Peter and Marcus talks with Saskia and Alastair.
This is the second part of the Barker College Redbacks team interview. If you haven't listened to the first part, in which we interview Lael Grant, the team co-ordinator, please do so now before listening to this second part. Everything will make more sense then!
In this episode we hear from Saskia and Alastair.
Saskia is a current member of the team and one of the Team Captains. She is a Year 11 student.
Alastair is a team alumnus and now an Engineering student.
Saskia and Alastair talk about life and learning as a competitive robotics team member.
This is Stemiverse Podcast episode 22.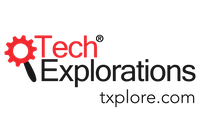 Stemiverse podcast is brought to you by Tech Explorations, a leading provider of educational resources for Makers, STEM students, and teachers. Go to txplore.com to see a complete list of our books and courses covering the Arduino, Raspberry Pi, and electronics.
Show notes
[00:00] Introduction - Introducing Saskia & Alaster
[01:51] Saskia & Alaster's feelings and opinions about the Robotics program at Barker College
[02:17] How and why Alaster joined the program
[02:51] How and why Saskia joined the program
[03:49] The connection between Alaster's experience at Barker and his decision to study Mechatronics
[04:35] Choosing one curricular activity over another
[05:50] How to balance the stress of competition with your studies
[07:42] The transition from a Barker student to mentor and examples of mentoring
[11:09] Saskia's specialization on the Robotics team and how she acquired the skills for it
[12:17] Training workshops at Barker Robotics
[13:10] The badge system and safety procedures
[14:23] Controlling electronic devices with thought
[15:31] Saskia's goal to become an Engineer and how the Barker robotics program influenced it
[16:40] How is Saskia planning to deal with the more rigid program of University studies in regards to what she has experienced at Barker College?
[18:03] Alaster's experience with a rigid University program
[19:12] Alaster's business
[19:57] Allowing your students, as a mentor, to make their own decisions when building a robot
[20:48] Saskia's thoughts on mentoring
[21:10] Do you find teaching is a good way to learn?
[21:41] 3D CAD Design Software SOLIDWORKS license
[22:15] Free and low price offers from Software vendors
[22:49] Inspirational people Saskia & Alaster look up to: Elon Musk
[24:53] Reading books
[25:55] Favourite technology
[28:39] How digital is study life these days?
[29:18] ECHO360
[30:03] What is your superpower?