Welcome to Stemiverse Podcast episode 0.5.
In this episode of Stemiverse, Dr Peter Dalmaris and Marcus Schappi continue the discussion they started in the first episode.
In this Part 2 of episode 1 we have an open conversation on things such as our approach to teaching and learning, favourite tools, productivity tools and tips, lessons from Star Trek, educational technologies, and much more.
This is Stemiverse episode 0.5.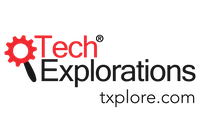 Stemiverse podcast is brought to you by Tech Explorations, a leading provider of educational resources for Makers, STEM students, and teachers. Go to txplore.com to see a complete list of our books and courses covering the Arduino, Raspberry Pi, and electronics.
Episode notes
[00:00] Introduction - Continuing from episode 0000
[00:58] Peter's approach to teaching: learning by doing
[05:39] Marcus's approach to teaching: simplistic approach, get the students through the first gate
[07:51] Marcus's Tools: Keynote, Arduino kits, Workshop kits, Google Apps
[10:13] Peter's Tools: Instructional Videos, Content Websites, Quiz Engines, Learning Management System: Teachable (teachable.com), Tech Explorations (txplore.com), Adobe Tools, Evernote, G Suite
[15:04] Peter's custom Project Management System
[18:39] Marcus's To-Do Lists: Things app & Asana
[19:16] Final Cut for video editing - Keynote animations
[21:10] Programming Languages (Marcus): Ruby
[22:47] Programming Languages (Peter): Ruby, C, C++, Objective C, Python, Java and more
[25:15] Scratch: Graphic, visual programming language, ideal for learning all the basics of programming
[27:27] Programming is different that learning a language
[28:14] Scratch is good for STEM teachers
[29:46] Why Programming is so important in STEM and Art
[34:26] Rapid Fire Questions
[34:57] Who has been the Most Influential in shaping the way you teach: Peter: Socrates & Carl Sagan - Marcus: Peter
[38:29] Advice to educators just starting out: Marcus: Learn a programming language and how the web works - Peter: the Educator Mind Set
[44:02] Parting Thoughts: Marcus: Publicise what you do - Peter: Watch Star Trek: Next Generation
[49:58] Contact Information: Peter: email: [email protected], twitter: @futureshocked - Marcus: twitter: @Schappi