Welcome to Stemiverse Podcast Episode 0.
In this episode of Stemiverse, Dr Peter Dalmaris and Marcus Schappi talk about Stemiverse podcast.
This is the first episode of our brand new Stemiverse podcast. We introduce ourselves and the podcast. We explain (or at least we try to explain) our motives for starting this podcast, technology education, schooling, our approach to learning and teaching.
In this discussion, we also talk about our favourite tools and technologies for helping us produce and manage educational content, and, of course, programming and programming languages.
This is Stemiverse Podcast episode 0.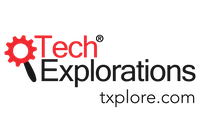 Stemiverse podcast is brought to you by Tech Explorations, a leading provider of educational resources for Makers, STEM students, and teachers. Go to txplore.com to see a complete list of our books and courses covering the Arduino, Raspberry Pi, and electronics.
Episode notes
[00:00] Introduction - Introducing Marcus & Peter
[01:25] Introducing the Podcast Stemiverse and the reasons for creating it
[03:05] Peter's background in STEM education
[04:58] Marcus's background in STEM education
[05:58] Peter's training and education, his background in academia and his online school
[08:28] Marcus's training and education, his website Little Bird Electronics, selling and teaching Arduino and Raspberry Pi
[15:32] What problems Stemiverse intends to solve
[19:27] Why Stemiverse is the solution to the problem of what does it take to become a better STEM teacher
[22:11] Announcing Stemiverse episode 0000.5